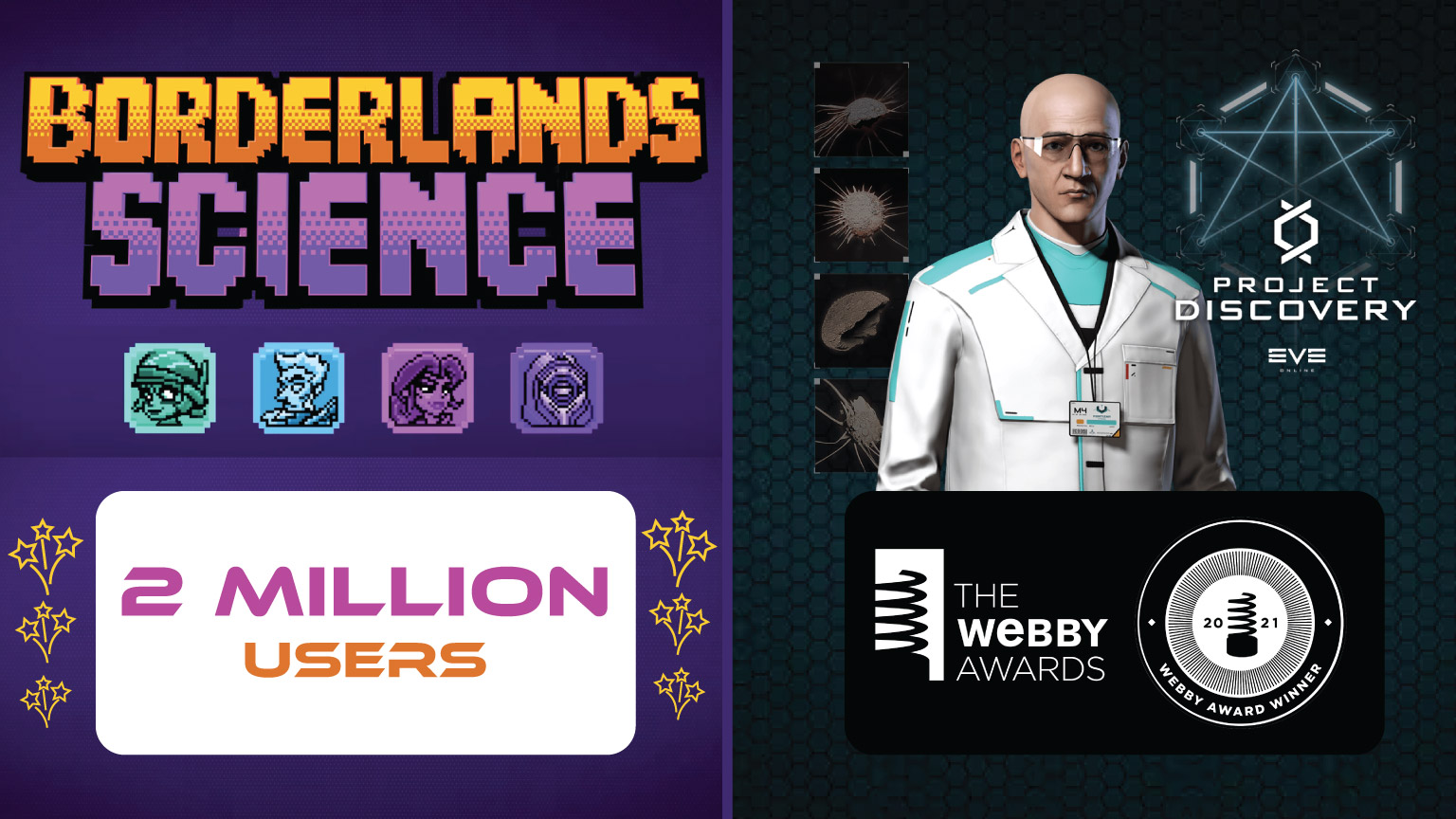 25 May

Would you like to know more?

While we are pursuing our analysis of the tens of millions of solutions submitted by Borderlands 3 and Eve Online communities, we do in this post a recap of various announces made last weeks. We have been active on many fronts. We participated to several events to explain the motivations, objectives and status of our citizen science projects. But most importantly, for the first time, the contribution of all citizen scientists has been recognized with a Webby People's Voice Award for Project Discovery 3 and Borderlands Science reached a milestone of 2 million participants! If you miss (one of) these announces or (even better!) want to read/watch it again, check the list below.

The (first?) documentary about citizen science and video games

The talented Flutter Brothers released a documentary for the series Off the Cuff that describes how video games are changing the science landscape. Members of both Borderlands Science and Project Discovery gave interviews to discuss their motivation and experience. The documentary features Bergur Finnbogason (Creative Director at CCP games), Daniel McDonald (Scientific Director, The Microsetta Initiative), Gabriel Richard (Lead Game Designer, Gearbox Studio Québec), Attila Szantner (CEO, Massively Multiplayer Online Science) and Jérôme Waldispühl (Assoc. Professor, McGill University) and is freely available on YouTube at https://youtu.be/zoWIOEm4EAw!


Blah blah blah!

We have been lucky enough to participate to several online events to present and discuss our projects. These talks are now publicly available online in English and French!

On May 5, for more than an hour, Ryan Brinkman (BC Cancer), Attila Szantner (MMOS) and Jérôme Waldispühl (McGill University) answered questions from the Eve Online community on the CCP games channel. Adam Laing and Abhi Das from King's College London joined us at this occasion to offer their perspective on the practical impact of Project Discovery. Replay the stream at https://www.twitch.tv/videos/1012145080 !